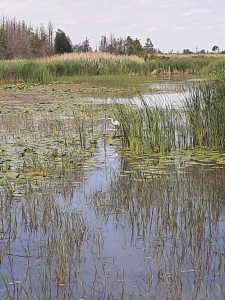 This is the transcript from our podcast episode on Backcountry Etiquette and Presqu'ile Provincial Park. You can listen to the episode here.
Pamela: Hello, and good day, eh? Welcome to the Super Good Camping podcast. My name is Pamela.
Tim: And I'm Tim
Pamela: and we are from supergoodcamping.com. We're here because we're on a mission to inspire other families to enjoy camping adventures, such as we have with our kids. Today, we wanted to talk a little bit about backcountry etiquette. And also I'll just do a little overview of Presqu'ile Provincial Park. So take it away on the backcountry etiquette, Tim.
Tim: Okay, so I won't, I'm not going to go across the board on all the etiquette things. I'd like to think a lot of it is common sense, you know, which is not so common.
Pamela: Yeah, this is true.
Tim: And I'll end up turning it into a gigantic rant about just how unhappy I am to find all that garbage and stuff out there. If you take it in, take it with you when you leave. Just leave no trace. That's the whole idea. Try to stay on the trails. When you're backcountry camping, Kawartha Highlands aside, you choose a lake, there is X number of sites on there, and one of those sites is yours. It's a first come first served type of deal. With Ontario Parks, assuming that they aren't overbooking, which they claim they don't, you should be able to find a site. You may have to paddle the entire lake, which I can tell you is no fun at all, especially if you're on a big lake. But that's the deal. So this has come up in discussion – what do you do when you show up at a lake, you paddle around, there are half a dozen sites and all of the sites have somebody on them? In theory, unless you're mistaken about what day it is and what site and what lake you're supposed to be on, you've got a permit that says, here's my itinerary. These are the lakes I booked for these dates. That's the end of the story. If all of the sites are taken, and you look at your permit, and you're right, somebody's lying. In all likelihood, it is possible that somebody was injured, or something came up. But what do you do at that point? How does that play out? Do you go to each individual site and nicely demand to see their permit? For the record, they're not actually required to show it to you. As best as I can tell from the Ontario parks regulations, there doesn't appear to be a recourse other than reporting to the park office that all of the sites are taken. Often a difficult thing to do when you don't have cellular service and you really don't want to portage and canoe back out through the deal that you just did. They are only required to show the permit to park rangers. It speaks poorly of our society that one of the female canoeists brought up that she wasn't showing her permit to anyone. She doesn't want some stranger to know her itinerary. I don't get it, because it honestly never occurred to me to not just pull out my permit and go "Na-na-na-na booboo, I'm good to go. There are five other people that you can go bug now." Your permit actually lists your itinerary, who you're camping with, and what sites you're on for what dates. I totally agree with her that she's absolutely right. She doesn't want to have to deal with somebody just showing up for whatever nefarious purpose, God only knows, right? That being said, I don't know what the solution is. If I was on the other side of the coin, if I was on a site and somebody came by and said I paddled around all the sites or there's a storm coming in or my kid twisted his ankle and we're going to try to wait till tomorrow and see if we can splint him up with some duct tape and a couple of branches, I'd be cool. I've got duct tape. Also, there's enough space for another pad back here and one campfire is big enough for two people or 17. People, it's no big deal for me personally, I'd be fine with that. Yes, I'm in the backcountry for serenity, for awayness. Because that's a term and if it isn't, I just made it one. But I'm not going to put somebody out. Who knows what the deal is really? And as long as you don't get a serial killer vibe from them. Come on in man. No big deal. It's one night. It certainly is for us because as I think I mentioned in the last episode, we don't sit still very long. We don't have many rest days. At most, we have one rest day per trip. I just wanted to say that that's kind of poopy. If somebody's doing on a site that they shouldn't be on, is it worth being confrontational? I don't know. You're certainly within your rights to say hey, are you supposed to be on this lake? Can you double-check your permit? Make sure you didn't oops, and you know, trek an extra one. Or there are lots of people that will have, as I did for our first trip, oversubscribed what our abilities were and they got halfway to their site and said we're not going to make it, man. This looks like a good lake. I book backcountry trips five months in advance. I'm like that and you have to for car camping so it's kind of habitual for me. You can easily go three weeks beforehand and take a look and find empty sites or find that there are still openings on lakes. It's not a capacity thing. So for somebody to think that they're being okay by not paddling, pushing through, and going on to their lake, I don't know that I would give them too much of a hard time about that. Because, in theory, it's not at capacity. You should be able to find a site. There probably is another one for whoever's booked. You wouldn't think you'd be putting somebody out of their site. Anyhow, that's pretty much my thoughts on that.
Pamela: Cool. And I was going to talk about Presqu'ile, so if you want to bug out go ahead.
Tim: Yeah.
Pamela: So I'm talking about Presqu'ile because thus far, Tim and Thomas haven't been there. Brandon and I have been there several times. And it's actually one of our very favourite car camping trips that we've done on our own. So we thought we would drag the other two out to Presqu'ile this year. Presqu'ile has several cool things about it. I'll just give you a bit of an overview of the park. There's lots of car camping there. It's got a two-and-a-half-kilometre sandy beach. There are 16 kilometres of trails and paths along the shorelines. It's a migration hotspot in the spring and in the fall with 338 bird species recorded and 130 breeding species. There's a one-kilometre Marsh Boardwalk Trail, which accesses the largest protected Marsh on the north shore of Lake Ontario. There are two visitor centres – a nature centre and the lighthouse interpretive centre – and it's open year-round for day use, and it's open in the summer for car camping. And car camping is open again, we can do it now as long as everything stays low in terms of case counts. So as Tim mentioned, we are scheduled to go to Presqu'ile for just a little two-night, three-day jaunt at the beginning of July. We're really looking forward to our first camping excursion this year, which is going to be to Presqu'ile. It also has the second oldest operating lighthouse in Ontario.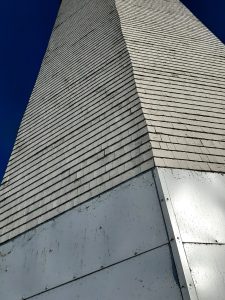 And so that's one of the things that we found really cool about Presqu'ile. There's a visitor interpretive centre next to the lighthouse, and also a gift shop. So it's really fun to go in there and lots that you can learn about nautical things in the interpretive centre. And then there's a nature centre as well and lots of interesting information you can learn in the nature centre. One of the things that Brandon and I enjoyed, especially when he was little, was just sitting on the beach.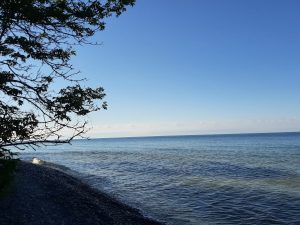 There are all kinds of limestone fossils that you can find on the beach. We collected several and took them to the nature centre, and he got an award for being a Fossil Hunter. He was quite thrilled about that. It's also quite good for biking we biked around a fair bit at Presqu'ile. You probably will want to bike from the nature centre to where the lighthouse is and then back and then back to your campsite. We found that a really effective way to get around. We did some geocaching while we were at Presqu'ile and the Marsh Boardwalk is pretty cool. We did that the last time that we were there. Another thing to mention once you come off the marsh boardwalk into a treed area that you come into, there were some really interesting-looking tree formations there. The trees would go straight up and then do a right-angle turn and then went straight up again. According to one of the park rangers that is because there was a disease in the tree, which then caused it to go sideways and then at some point went back upwards again. Anyway, they almost look like horseback. You can actually climb onto those trees and sit on them as if you were sitting on horseback. Those were some of the fun things that we did at Presqu'ile. There's a beach there so, of course, we went swimming. It's on Lake Ontario which tends to be a little bit cold year round. So you might want to have an extra layer or something on if you're going to plan to go swimming. And, as I mentioned geocaching. We did geocaching while we were inside the park too. There's some interesting history in the area. It's close to a little town called Brighton. We went into Brighton and got some ice cream and went into an antique shop and poked around there. So anyways, it's quite a nice park. And we really have enjoyed our trips to Presqu'ile. We've been probably three or four times and then this year we're taking Tim and Thomas. We'll do a little bit of a post-Presqu'ile review of what that was like. Tim and Thomas will be doing a backcountry trip in Algonquin. Then in August, we are off to Turkey Point Provincial Park, which is our first year camping on Lake Erie, which we're kind of excited about. We've done several of the other Great Lakes but we have not yet been to Lake Erie. That's it for us for today. I am Pamela and Tim has vamoosed. If you'd like to reach out to us, we'd love to hear from you. Our email address is hi@supergoodcamping.com and we would love to hear from you. Please connect with us on social media. We're on Twitter. We're on Instagram, we're on Facebook. We have a public Facebook group called The Campfire. We'd love it if you joined us on there. And we'd love to chat with you. Thank you for listening, take care and talk to you soon.