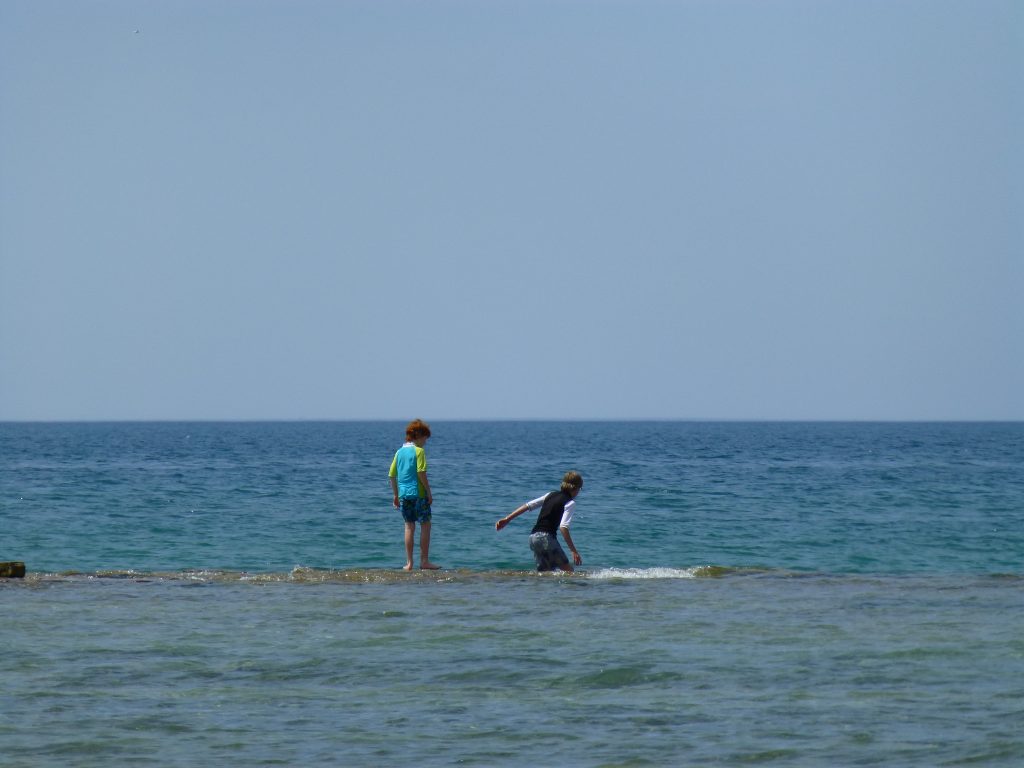 Pamela: Hello and good day. Welcome to our podcast, we are from Super Good Camping. I'm Pamela.
Tim: and I'm Tim.
Sleeping Bags
Pamela: We wanted to talk today about a couple of things. Sleeping bags and air mattresses were our first topics. For camping, obviously, you are going to need something to sleep in. So I thought I would ask Tim what he thought about certain kinds of sleeping bags. Any particular thoughts about the best sleeping bags that people should be looking for, Tim?
Tim: It depends on what you want to do with them. Most sleeping bags that you're going to find, whether that's at a Canadian Tire or a not high-end camping place, they'll be 3-season camping bags. They'll go from, let's say, 10 degrees Celsius up to 25 or 30 degrees Celsius. So they won't be terribly thick.
Pamela: For summer camping you might want something a bit more lightweight. And we personally, because we're a couple we will zip our sleeping bags together. So we like sleeping bags that will zip together. Kids on the other hand would like theirs separate. One of ours is preferential to a mummy bag that we actually found while we were camping one year. And he loves that. He takes it with him to Scout camps and he takes it in all kinds of weather he'll sleep in the mummy bag.
Tim: We washed it before.
Pamela: It was well sanitized.
Tim: Not knowing who was in it beforehand. That's a good segway into mummy bags. So, for shoulder seasons, if you're going out earlier, say May or even early June, you'll get temperatures that get down close to zero degrees Celsius. Ditto, we do a fall camp, the boys and I bug out in the canoe and it gets pretty cool and damp so we tend to use mummy bags for those. We have 5. We have a lot of sleeping bags as well. The mummy bag, because of the shape of it, holds your heat in better. They're also usually rated for much lower temperatures and they tend to be a little bit longer. So it comes up higher. You can actually, you know, wrap it right over your head with an opening for your face. So it's like wearing a top to bottom hoodie, would be a good way to put it.
Pamela: People who have toured our basement are astounded at the number of bins that contain camping gear.
Tim: Yeah!
Air Mattresses
Pamela: And also we wanted to talk a little bit about air mattresses. It's a bit of a luxury item, as far as we're concerned to have. When we go summer camping in particular because it's cushiony. It feels like you're sleeping on a real mattress almost. It lifts you off the ground. Is there anything we should be looking for in terms of air mattresses, Tim?
Tim: There's a number of different types of air mattresses. They're all pretty good. I don't know that there is a lot of differences between them in the sense of, obviously, the more you spend, in all likelihood the more quality you're going to get. You want to make sure that if it doesn't come with a patch kit, that you have a patch kit with you because you absolutely will puncture it at some point and end up sleeping on hard ground. Some of them come with built-in pumps. You just plug it in, whether you plug it into the cigarette lighter in your car. It's a 110v, an outlet type pump. We have a battery-operated pump that is rechargeable. It also has a cord that you can plug into the cigarette lighter in the car. By the time that you have pumped up 3 air mattresses, you're doing a good job of draining it. Or if you have one that has a slow leak and you have to pump it up every day.
Pamela: Just a point of consideration for your fellow campers, it's best if you're using your air mattress pump earlier in the day. Try not to be blowing up your air mattresses at 11 o'clock at night when you're going to bed when other people are trying to sleep.
Tim: Yes, you'll make them very unhappy. You can get manual pumps too. Ages ago I used to have like a bellows pump that I would sit in my chair and pump it with my foot. It would take about 3 days to pump up the air mattress but it does do it and it doesn't tick off your neighbours.
Pamela: And you get a good leg workout too.
Tim: It does too, one calf is about 4 feet around.
Pamela: Durability, of course, with the air mattresses. Tim mentioned that you probably get what you pay for. We have one air mattress that we have had as long as we have camped together that Tim has so religiously kept patching and patching. Last year, I think, the kids and I finally said enough is enough. We have patched that thing enough, it's time for it to go and we're getting a new one.
Camping Pillows
Tim: I would add in, just as part of that package of sleeping bags and air mattresses. Pillows are worth considering as well. You know as you replace pillows in your house, then they go into the camping pile with an old beater cover for it. It takes up a lot of space in your car. You can't really compress them down as much as you'd like. They also take up a lot of space inside your tent. So we have actually moved on to much smaller, they're more towards a backcountry style of pillow, but they're compressible. They do the job, they keep your head, rather than being floonk on top of your air mattress, they're like a pillow at home. But you can compress it down to…you could literally stuff it in your pocket.
Inverhuron Provincial Park
Pamela: Yeah, they're awesome. And this week we thought we would talk about Inverhuron Provincial Park. That was our next adventure as a family. We went there in 2014. One of the things that we loved about it, one of the things that we discovered about it, the first day that we were there was, not the regular beach, but there was a place that you could go in the water that was flat slate rocks, and they were quite slippery while wet, but you could wade out a fair ways on those rocks. It was quite shallow quite a ways out, and there was a bit of a sand bar and then it dropped off fairly precipitously at that point. We all had a ball, just wading in around the sand but also going out as far as we could without anybody drowning. Kids in lifejackets in any kind of conditions like that. We had our dog with us. He would kind of enjoy puttering around in the shallow part. He's not really a swimmer. But we could also see the Bruce Peninsula. You could see the Bruce power station from there.
Tim: And a lot of big open area. It was our first trip to Lake Huron and it's a big body of water, man. It's also very cool for the sunsets because you're west-facing or you're on the east bank. I think we were more south-east, but you're on the east bank of Lake Huron. The nice thing about that particular beach is that there was nobody else around. There's a path that cuts through on your way over to the regular beach which was still a decent way away. We just went ok, well let's go check this out. and it was great. There was nobody else around. We had the whole area all to ourselves. It was awesome.
Pamela: This was also one of the years that my family joined us camping. Which was always enjoyable. I have 2 brothers and a sister and then their kids. So they all would come with us and we would have a big family dinner. Tim is a good cook and so they would come to join us at our campsite for ribs…
Tim: and lobster tails in the fire.
Pamela: That's a secret that we'll pass on in a subsequent episode, is how to do lobster tails in the fire. It's such a luxury. We thoroughly enjoy having the family together. We sit around the campfire and yack and trade stories. Some of our favourite memories from camping, you'll see, involves our family, whether it's our kids or whether it's my extended family. That's part of what camping is about is getting together with people that we love and sharing our love of nature at the same time.
Tim: It's great. I absolutely love having a big posse of people. And we trade-off cooking, as Pamela mentioned, one of her brothers is also a good cook and he did a Mexican meal one night. It wouldn't even occur to me, it's just not in my repertoire. But it was awesome.
Pamela: It was fun.
Tim: Very cool. So some of the other things about Inverhuron, it was for me, the very first time that I camped on crushed stone. That was what the base of our campsite was. It proved to be a little bit of a challenge for pegging things down, etc. but we did manage to get it going. I know we talked previously in our Tents episode about having footprints, which is sort of a tarp underneath your tent. This would have been a good place, if we had had one I would have used it because rocks are very unforgiving and I don't believe we got a leak in our tent, but it very easily could have poked a hole through the bottom of the tent. We also, in hindsight, foolishly, but I wanted to try it, my parents bought us a 30×50′ tarp so that I could tarp the entire site. That was a bit of a challenge to put up and keep it from turning into the world's biggest parachute and blow away etc. etc. But we did eventually get it rigged. Lots of bad words were used I'm sure, but it turned out to be very cool. We managed to tie it off well enough. We did have some rain at one point and we had this large area that you didn't even know that it was raining.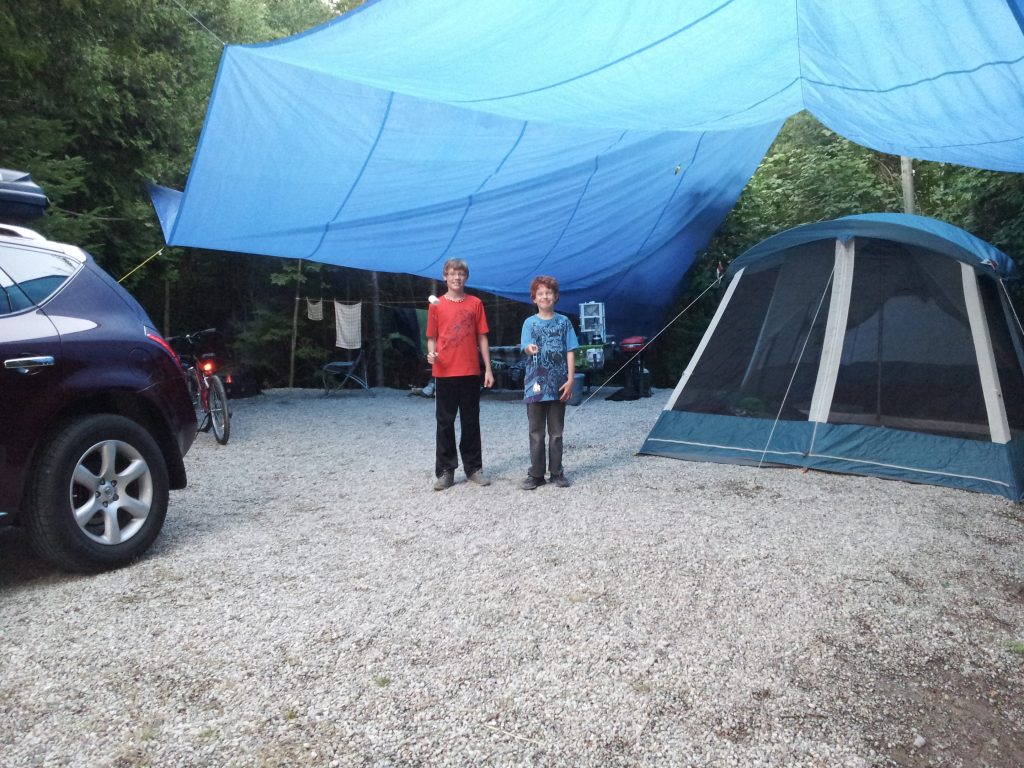 Pamela: We so appreciated the tarp for sure. And we had spectators come around and admire our tarp.
Tim: I'd never seen anything like it before or after and I just thought, well gee, why wouldn't somebody try that. So jump forward, I want to say the next year we tried it again. It didn't go nearly as well. We ended up having to take it down. There was too much wind and it just kept trying to fly away and tear everything out with it.
Pamela: Yeah, the grommets certainly were worse for the wear. That's all I had to say, what about you Tim?
Tim: Yeah, I remember lots of family time, that was very cool. We weren't too far from each other so we could walk back and forth. Although we did do a decent amount of biking. Lots of good trails, I don't know that they were specifically biking trails but we did do quite a bit of biking through the woods and along the shoreline and stuff like that. I liked that. I think it was particular to the year, they were doing a lot of construction. They were building another campground. So you could hear lots of bulldozing and frontend loaders and stuff like that, although it wasn't the worst thing in the world. And I understand, having read about them since, that it's quite a nice campground that they put in. Yeah, it's definitely worth the drive.
Pamela: Well and just to recap sleeping bags, you're looking for whatever kind of weather you're looking to camp in, you need the appropriate sleeping bag for that. If you're going to be doing cold weather camping or backcountry camping you might have different requirements for your sleeping bag in terms of weight and warmth. Brand wise Coleman makes a lot of camping gear, so they're something to look for and MEC or Mountain Equipment Co-op, that's where our mummy bag came from.
Tim: Yes, the one that our youngest uses for all of his Scout camps and stuff. We have two more, I just picked up this past spring, for the record I bought them online from Atmosphere. They were an incredible sale, I think. I think taxes in, I paid $105 apiece, which was about $60-65 less than they normally were. We've only used them once, but they're awesome.
Pamela: If you're looking for more information about backcountry camping, we're hoping to get into that in a later episode. We're kind of working our way up from the more beginner and basic things that we did into the more technical things like backcountry camping. So that's something to look forward to and that's it for us for this Sunday. I hope you have a wonderful rest of your day and if you would like to reach out to us we would love to hear from you. Our email address is hi@supergoodcamping.com, that's "h" "i" at supergoodcamping.com. Have a wonderful day, thanks, bye.
Tim: See ya!