This is the transcript from our camping podcast episode of the same name. You can listen to it on Spotify, Apple Podcasts, or wherever you get your podcasts.
Introduction
Pamela: Hello, and good day, eh? Welcome to the Super Good Camping podcast. My name is Pamela.
Tim: And I'm Tim.
Pamela: And we're from supergoodcamping.com. We're here because we wanted to inspire other families to enjoy camping adventures such as we have with our kids. Today, we wanted to revisit bears, bears 2.0. And talk a little bit about Turkey Point Provincial Park, which is where our most recent camping excursion took us. So about bears, we've had a few questions, and a few concerns, people were worried about what happens if they run into a bear. What should I do? And so I thought I'd just turn over to Tim to talk a little bit more about that.
What To Do About Bears
Tim: So yes, and I understand that people are concerned and up to a point validly so I think as long as you're smart, you'll be fine. I can't speak to Grizzlies. I've read some stories about how some people have dealt with them and I'm just not going to go camping where there are Grizzlies. That's kind of how that's gonna play out for me, it seems like a good idea. But for black and brown bears I'm not so worried. Black bears are what we tend to run into in Ontario. So as long as you don't have an attractant, in other words, you don't have food, you don't have garbage that has food in it and you haven't thrown food things into your firepit.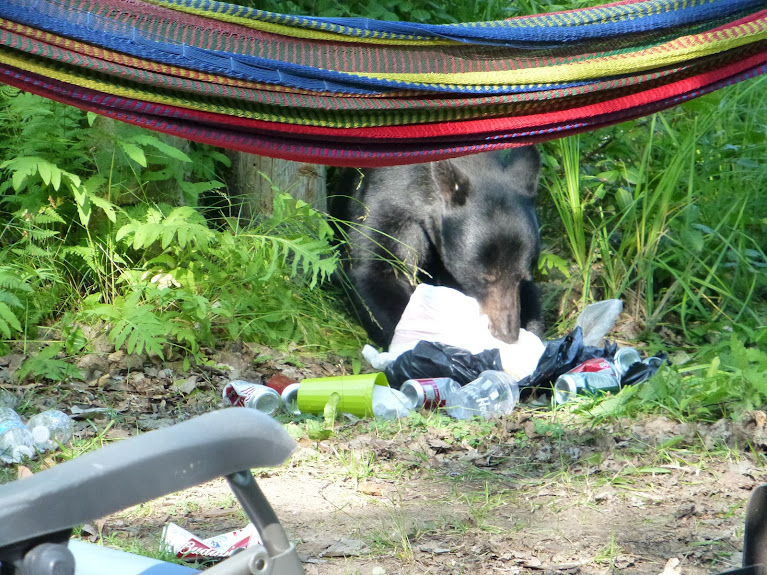 If you've thrown things into your firepit, make sure you've had a good hot fire to burn that stuff out. You pack your food away, you do all those things. As Pamela mentioned in our previous bear episode, things like toothpaste and gum, they're all yummy-smelling things. Don't wear that cherry lip balm. I try to avoid mine when we're camping but you know, that's a tough one. In car camping, there are a few places where bears are more likely: Grundy, Killbear, and that sort of place. For instance, on our Turkey Point trip recently, and also at Darlington Provincial Park, or Presqu'ile, those are the campgrounds where you're not going to run into bears on your trip. You may run into raccoons, and lots of birds, but not bears. Play smart and I suppose if you're that concerned, don't go to parks where there is a potential for them to show up. We've never had a bad bear encounter and we've had a handful of them. So you know, even in the bear country, play smart. I think we alluded to hanging our food. We're very conscientious about what we do in the backcountry because you're not going to see them coming necessarily. So if I was concerned I would be a little more concerned about bears in the backcountry. I'm old and crippled and the kid can run faster than me which means I'll be the bear food and I'm not worried about it. It's really not that big of a deal. Be smart about it, carry a garbage bag with you, something that makes a noise that the bear will not recognize. That will freak the bear out and make them hopefully run away. We carry bear bells when Thomas and I are in the backcountry. They make a little ding ding ding just to say "here we come, something that you might not want to eat, go get some blueberries." Don't you pick the blueberries, leave them for the bears.
Pamela: One specific question we had was about somebody who is going to be camping in a trailer with their fridge in the trailer. She was wondering whether it was safe to have food in their fridge in their trailer.
Tim: Again, it depends on the campground. Bears have a wicked sense of smell. If it's a hard-sided trailer you should be fine. Chances are it will take them a while to chew through the side of it which should give you plenty of opportunity to make a run for it. Sorry, I'm kidding.
Pamela: People are freaking out right now!
Tim: Hard-sided trailers, according to the Ontario Provincial Parks officials and the National Parks rangers as well, are not a problem. It should be just fine. Soft-sided like a pop-up trailer, or a tent trailer, may not be such a good idea. Use a cooler and chuck it into the trunk of your car if you're using a soft-sided trailer.
Turkey Point Provincial Park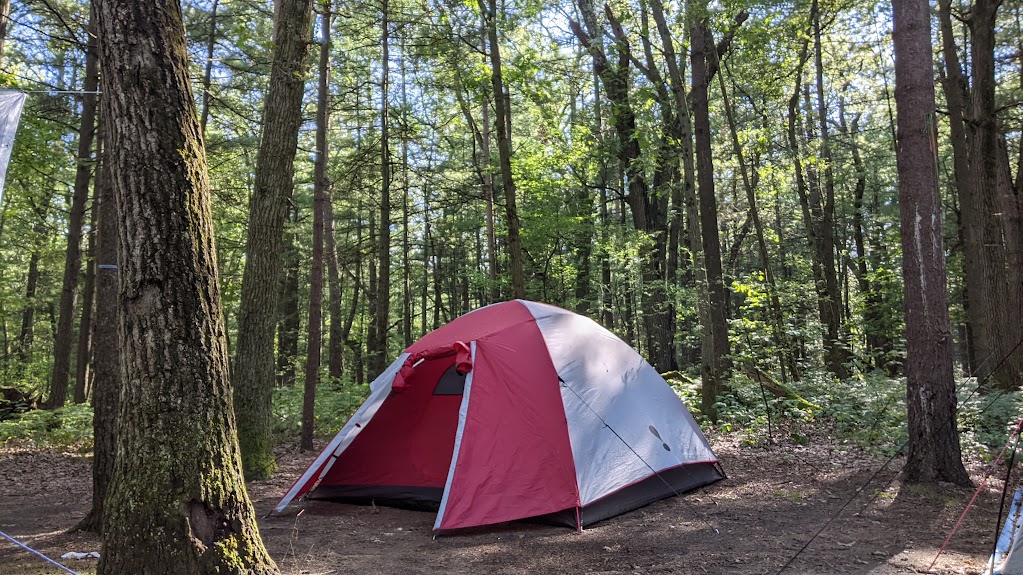 Pamela: That's it for bears. Turkey Point Provincial Park is on the shores of Lake Erie. We chose it this year partly because we've never camped on Lake Erie. We're trying to hit a few of the Great Lakes that we haven't been to yet. And purportedly the water there is supposed to be very warm. However, the kids and I didn't find it super warm. The beach is lovely and the lake is beautiful.
We did thoroughly enjoy actually going to the beach. It's very busy at the beach, particularly on the weekends. And it was a very hot weekend, the first weekend that we were there, so there were lots of people at the beach. What was a little disappointing was that the beach is not located inside the park. You actually have to drive a couple of kilometers outside the park to get to the beach. We prefer to be able to bike back and forth to the beach. But anyway, we did end up loading into the car and driving down to the beach a few of the days that we were there. Parking at the beach is fine. There was a large parking lot and there's some street parking there too. We had no issues with the parking. It was really crowded a couple of the days that we were there, but then midweek, Tuesday, Wednesday, and Thursday, it was fine. Other than that we enjoyed the park while Tim enjoyed the campsite.
Tim: So as Pamela mentioned earlier, she and the kids enjoyed the beach I was a complete and utter slug! I did nothing but hang around the campsite and cook, eat, read nap – I napped an awful lot. I totally blame it on whatever bug I caught in Algonquin that I was still getting over. There were moments of narcolepsy and then I would be just fine. And then I would be doing everything I could to not immediately be unconscious. It was a very weird experience. And work has been stressful. That's part of what camping does for me, it helps me reset. As much as I generally like to explore and jump on the bike once in a while, not on this trip to Turkey Point. Some of the things I did notice that I quite liked:
The staff was, from the fairly minimal encounters we had with them, fantastic, very polite, and very helpful. They were on top of cleaning the comfort stations and the vault toilets. They did an exceptional job.
I think they patrolled fairly often or patrolled might be the wrong term. They certainly did drive-bys fairly often, including some of the wardens. There was no noise. Sure there were the usual shouting kids at 7:30 in the morning, but they're little kids. It's not surprising. I think the park rules said quiet time was from 10 pm to 7 a.m. or something like that and it was quiet. There was no partying. It was great. We did manage to luck out and get a radio-free campground. Radio-Free means you don't hear radios. But sometimes you do hear people being drunk up until whatever wee hours in the morning. This was fantastic. There was no noise at all, it was great.
Pamela: A couple of other things to note, Turkey Point Mountain Bike Club has a network of trails that go through Turkey Point. We didn't avail ourselves of them, but if you're into mountain biking we saw lots of the trails and it looked like it would be pretty fun.
Tim: Yeah, they are. I did look through the map originally, there are different skill levels. There's a whack of different trails and different levels in terms of length or just ability. Variations in the ups and the downs and the dodging trees but it looked like an amazing set of trails. If you had a bike and just wanted to get out there and give 'er that would be a good place to go.
Pamela: The kids and I did one of the hikes of the three hikes that they have there, which is called the Lookout Bluff Trail. It was a nice trail. It does take you to a bluff where you can look out onto Lake Erie and the town of Turkey Point.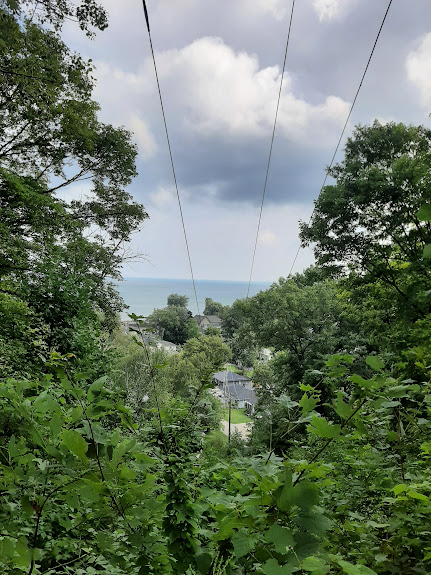 Turkey Point is actually sort of a lakeside town. It sits right along the main drag that runs right along the lake. There are a few restaurants that are mostly takeout kind of foods, so fish and chips and burgers and things like that. Of the many ice cream places we sampled in Turkey Point, we came to the conclusion that Kelly's Cove, which actually advertises itself as having the largest scooped ice cream was definitely our favorite.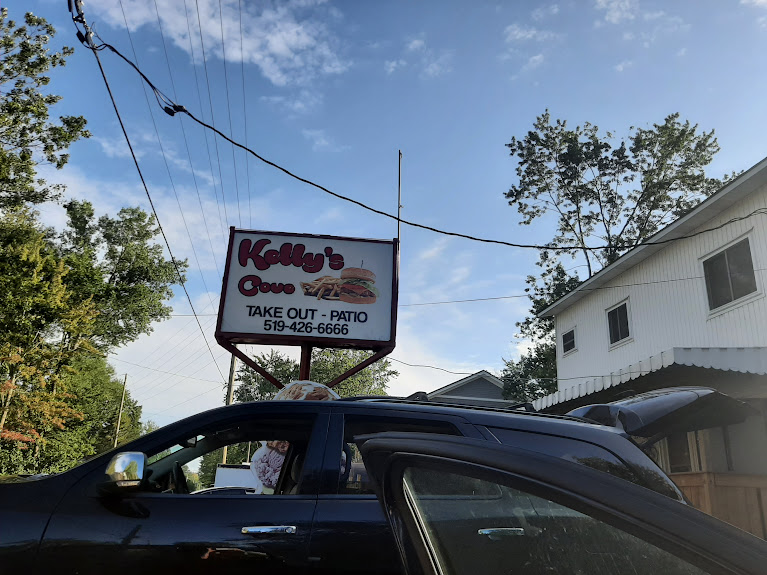 We sampled Shaw's ice cream, Chapman's ice cream, and Nestle ice cream and the Chapman's at Kelly's won out. We played a round of mini golf at the mini golf place there. We had some fun.
Tim: Just to throw out a couple of other points. The campsites were quite large, well-treed, and have good privacy in the grand scheme of things. Our site in particular had two picnic tables and a fire pit. We had space for two tents, a dining tent over one picnic table and a second table. It had a little bit of a grade which turned out to be a wonderful thing considering how much rain we had when we were there. We had a brutal thunderstorm, one of the nights that we were there. It was so loud!
Pamela: The kids were saying that it just lit up their tent. The lightning was so bright!
Tim: It poured! I would assume the rainfall was somewhere between 50 and 75 millimeters of water. It just hammered down that night. Kind of neat, but a little bit scary. We're on the upper part of the slope, right? It's only a little bit of a grade so it's gonna go down in the middle. It worked out just fine. Lots of the other sites were also quite nice. Not necessarily all of them had two picnic tables. We left Turkey Point on Friday the 13th and for those of you who don't know, Turkey Point is very close to Port Dover, Ontario on Lake Erie. It's a motorcycle thing. I don't even know how to describe it, but 10s and 10s of 1000s of motorcycles descend on Port Dover every Friday the 13th. Bike clubs also go too, to raise money for whatever charity. So that's a good thing. It was insane. They said it was a down year. The city officials had started publishing ads and making sure that news reports went out five months before to say "please don't come". Because we don't know how to deal with this with the COVID thing, but it didn't appear to slow them down. But they said it was substantially less, but it was still 10s and 10s of 1000s.
Pamela: We saw motorcycles, hundreds of them coming at us as we were leaving. I can't imagine it as Port Dover is not that big of a town. I just can't imagine where all those people would go.
Tim: There couldn't have been anything vaguely resembling social distancing. It would have been just shoulder to shoulder, it was nuts.
Pamela: Yeah. One thing to mention to you about our campsite. That night that we had all the rain, our neighbors didn't fare quite so well. They were on a bit of a lower grade from us. And they were shlepping back and forth to the comfort station to use the dryers to dry their stuff. We felt bad for them. But yeah, we were high and dry.
Tim: So there's a vote right there for using air mattresses. When you're car camping because that stuff floats. It'll get wet, but at least you won't be sleeping in a puddle of water.
Pamela: That's it for us for today. We're from supergoodcamping.com. Please do connect with us on all the social media. We're on Twitter. We're on Facebook. We're on Instagram. Our email address is hi@supergoodcamping.com. I'm Pamela.
Tim: I'm Tim
Pamela: And we will talk to you again soon. Bye!
Tim: Bye!
*This post contains affiliate links. If you purchase something from those links, it helps support us and our kids and doesn't cost you any additional money. We appreciate your support.