This is the transcript from our podcast. If you would like to listen to it, you can listen here.
Pamela: Hello, and good day eh! Welcome to the Super Good Camping podcast. My name is Pamela.
Tim: And I'm Tim
Pamela: and we're from SuperGoodCamping.com. We're here because we wanted to inspire other families to enjoy camping adventures such as we have with our kids. Today we want to talk about a couple of things: backpacks and Emily Provincial Park. So Tim is going to talk a little bit about backpacks and backcountry backpacks.
Tim: All right, so for front-country camping, for car camping, you need a backpack more than anything for the activities off-site that you're doing. I mean as far as showing up at your campsite, you can bring it in a garbage bag. It really doesn't matter as it goes from your car into the tent, right? No big deal. If you're jumping on bikes and are headed to the beach or going for a ride or you're going to do some hiking. The picture in my mind is, having done the Crack at Killarney, that having a backpack is a good thing. It doesn't need to be a big pack. It doesn't need to be an expensive pack. You know, something in the capacity, here in Ontario is rated by literage. The litre volume, the size of the pack, 20 to 30 litres is tonnes for a daypack, for a light hike, what have you, as long as it has, you know a couple of compartments in it. Maybe a couple of mesh pockets on the outside for your water bottles. Maybe a couple of spots that you can clip something, like well, these days a bottle of hand sanitizer.
Pamela: A flashlight
Tim: Yeah, that's great because you do get wrapped up in things and go "oh, it's getting dark". Or, you're going out to watch the bats take off for the night. You know, some bug spray some sunscreen, what have you inside. You're throwing in some towels, potentially some additional water, if it's a long hike, some snacks, that sort of thing. So it doesn't have to be anything crazy, it's not rocket science. It doesn't have to be awesome. Anything that the kids are using for school is fine. Although I tend to take things a little farther than they need to go. Of my two day packs, one is a Dakine which is more of a denim-ish pack. So it's a little better wearing but it doesn't fare well in rain. I have a Deuter, a 28-liter Deuter. It's got a mesh screen on it so that it keeps the pack off my back when I'm getting all sweaty, it gets better airflow. It's got a bit of a metal frame inside of it. So I can load it down with quite a few things. It's probably about double the price of what the Dakine was. Osprey, Patagonia I've read good reviews on those kinds of packs. I think that probably covers daypacks for a bike ride or a hike. Backcountry, while they are similar, they're a bit of a different deal. You're into bigger packs because you're lugging a lot more gear. Make sure that they've got good padding in the shoulders. That they've got very robust strapping and the stops so that when you tighten up those straps, they don't start slipping through when you're doing a two-kilometer portage. You want a waist belt because you don't want it all sitting on the top of your shoulders and trying to pull you back all the time. You want a chest strap so they're not separating all the time. It keeps a load well-balanced on you. We've got two backcountry packs, one's waterproof. I don't know many different manufacturers. Sealine I believe is one of them. I used to have a Seal bag and then some raccoons made it not be waterproof anymore. But right now I have a 60 or 70 liter Mountain Equipment rubberized. It's a rubber bag with straps and some metal supports in it and a waist strap on it. You can put a crazy amount of stuff in there and you can kill yourself lugging that around. I've seen packs go as big as 120 liters which I can't even fathom dragging that much gear. I'll put it into two packs because I'm not interested in killing myself with one. And our other one which I think is a 55 liter. It's a fairly standard one. One of the nice features that it comes with as well as my Deuter day pack is that it has a rain cover that pops out of the bottom of it. It's got spring cord in it. Think of it as three-quarters of a garbage bag that goes over the top of your pack and keeps your stuff from getting soaked going through a portage or over a hike and it starts raining. You can strap way more stuff to the outside. There are lots of little straps to hold things on. You can have a jangly bearbell working away for you maps, saws, things that don't really fit inside of a pack. Also, the pack is divvied up into way more compartments. And it has little compartments within bigger compartments. That way you can be very specific about what you have where so that you can access things easily because you're carrying so much more with you all the time. You need to know where those things are and be able to, in an organized way, be able to access whatever it is whether it's a map and compass, where your matches, are that sort of thing.
Emily Provincial Park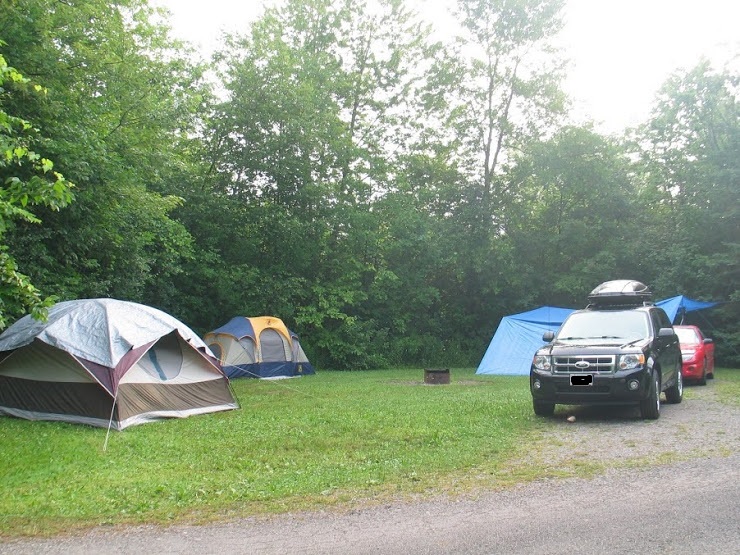 Pamela: Awesome. And so what's next was Emily Provincial Park, which is another not-too-long-of-a-jaunt to get to from Toronto. It's in the Kawartha area, so around Peterborough. One of our kids and I went there when we were going to visit a cousin who lives on Pigeon Lake because it was nearby we went and camped overnight at Emily Provincial Park. Emily, as far as amenities, they have biking on the campground roads which are fairly quiet but also the Trans-Canada trail is nearby. It's on Pigeon River which links to the Trent Severn waterway which then links to Lake Ontario and Georgian Bay. It has a discovery program for kids in the summertime. There's a Learn to Fish program at several of the parks, not just Emily, but there is one at Emily. It's a two-hour long free program that teaches people of any age how to fish and includes the use of a rod and reel and tackle box during the duration of that program. So that's fun if you want to learn how to fish. There are two sandy beaches and there's a dog beach in the day-use area. It's closed in the winter, but you can access the park to use it for your own purposes for cross-country skiing, snowshoeing, or winter hiking. It's just there. None of the facilities are open. The washrooms are closed and there's no staff there to help you, though.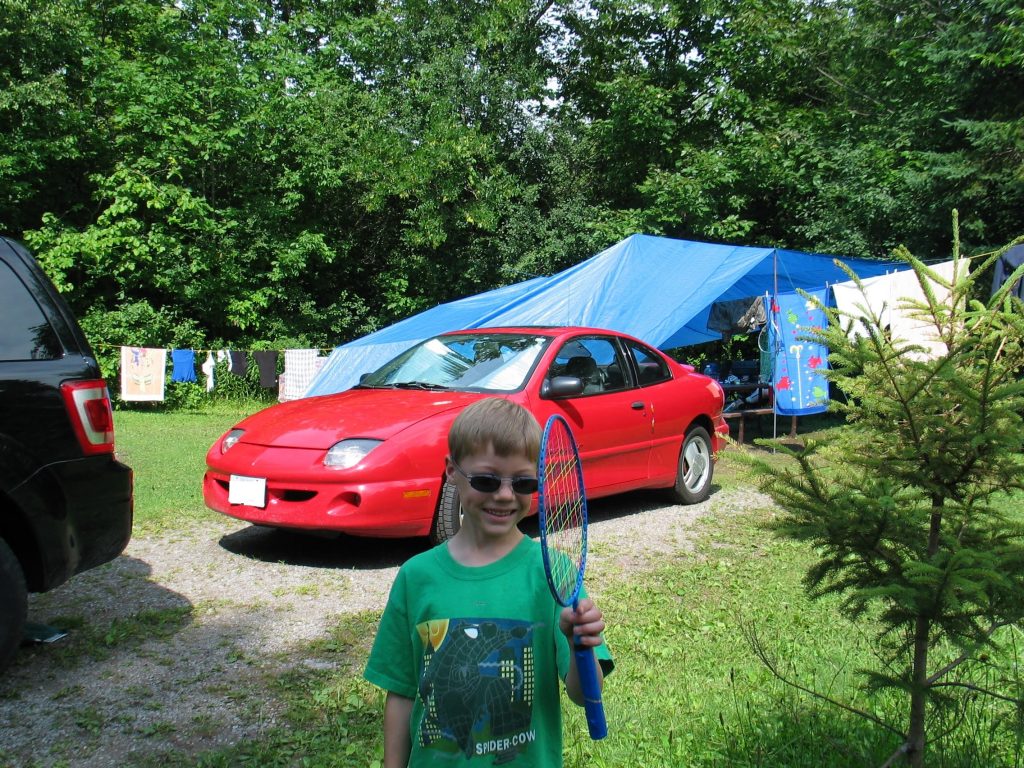 Tim: You're kind of on your own peeing in the forest. So the other kid and I went to Emily many years before that, and he did the learning to fish program. It was a very cool thing. It was two or three hours. They give him a demonstration and lent him a rod and reel and like a small tackle box of stuff, made sure he didn't hook any of us while he was casting and it was great. He had tonnes of fun and the things I remember most about Emily, you said it's on a river right?
Pamela: Pigeon River.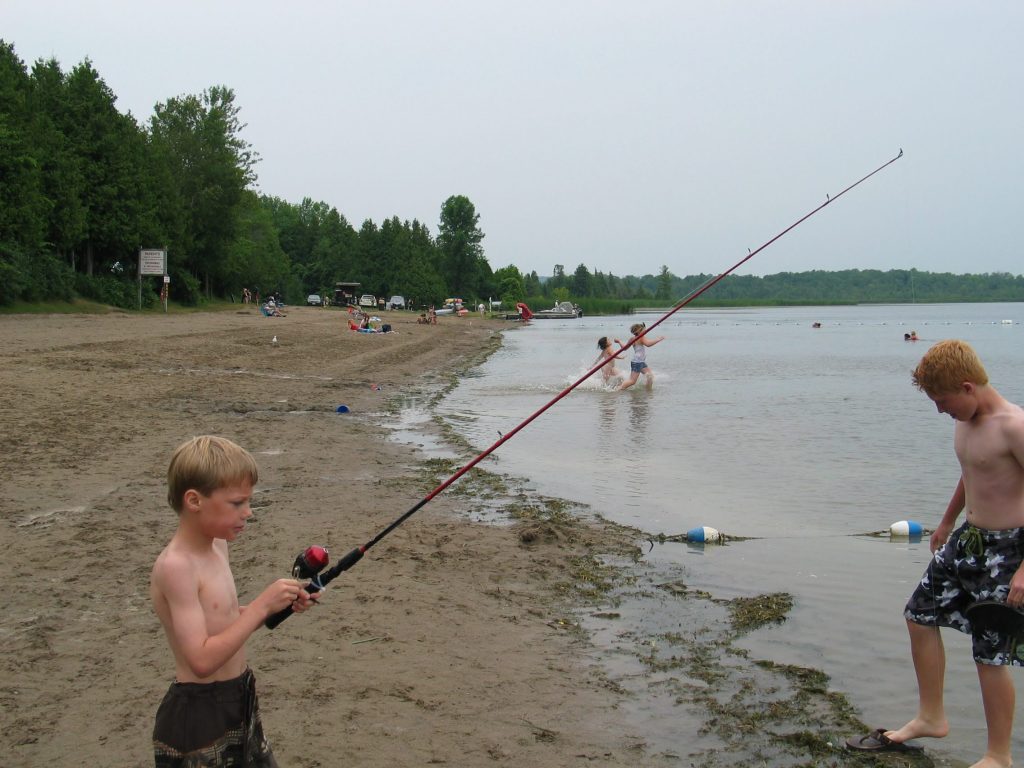 Tim: Okay, so I would have said a lake but I know that there was a very sandy beach that was quite nice to play around in and I remember kids digging, you know, moats and filling it up with water and making castles and stuff. There was a reedy area that we fished in and caught a couple of Bass, if I'm not mistaken. The sites were nice, a little bit of separation between the sites with a row of cedar trees. The sites were very flat, had gravel and a bit of grass. They were wide open to the road and to whoever the bonehead across the road was, he was young and playing crappy music until far too late. I had to have a word with somebody at one point. And then it got quiet. So it was nice. Yeah. And it's not far to travel like an hour and a half, two hours, something like that. It was nice and nice and close. It'll get busy on the weekend because it's so close to Toronto and especially these days. It's just insane to book sites anywhere now. Everybody's going camping.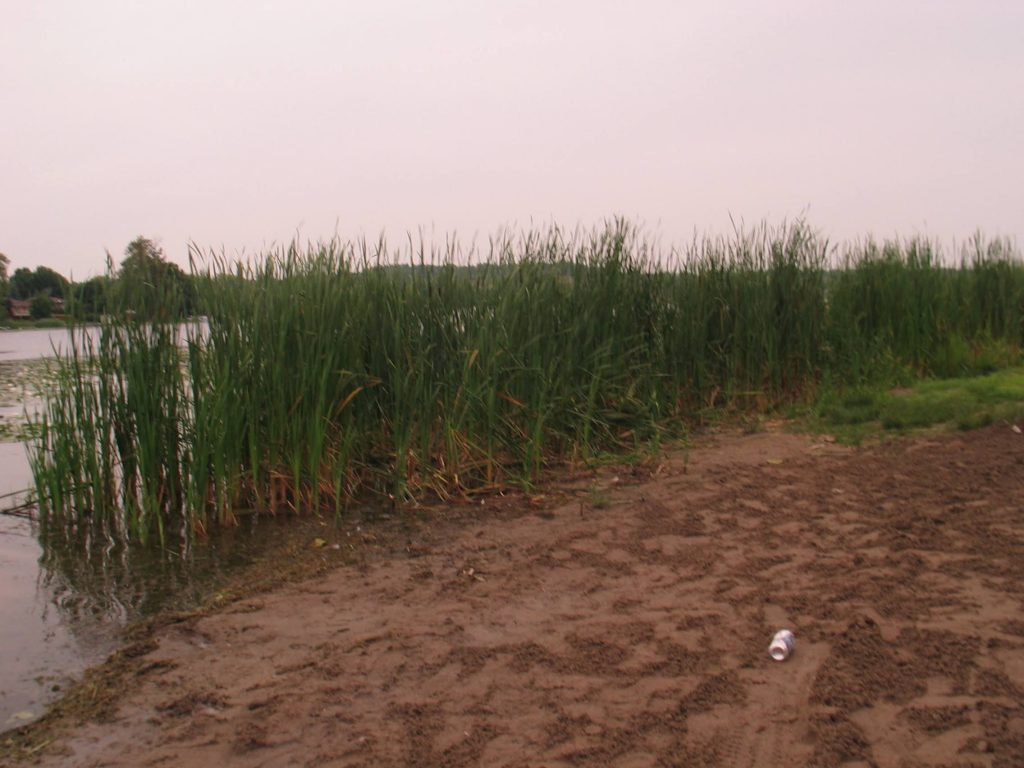 Pamela: It's the only vacation to be had at the moment. So everybody's camping, which we like!
Tim: You know, it's great that they're getting out I have to put it out there. I'm a little concerned about just ending February and I booked a canoe trip for the big kid and me. Backcountry camping is not for everyone. It can be a bit of a deal. I personally think the reward certainly outweighs the additional effort and I'm not averse to being away from people. I'm kind of okay with that. I have never had so much trouble trying to book a backcountry trip as I did this year. They were sold out. I spent, I don't even know, but the better part of a week up at seven o'clock every morning, ready to go to options for Killarney and I couldn't get anything! Anything! So I've actually had to bail from that plan and go with an option for Algonquin. And even that I had to make two adjustments to the options that we already had in order to book. So we actually now have to drive all the way to Killarney to pick up the canoe, then drive all the way back to Algonquin. Stay overnight, do a car camping night, before we can take off for our canoe trip. That's insane. That's crazy. So where I'm going with it is that means there are way more people backcountry camping this year than I've ever seen before. And if there are that many people backcountry camping, I'm betting there are a whole bunch of new people or people less experienced, which again, I'm happy to see happen. I'm very concerned that they're going out without a clue and we're going to see all kinds of lost people, hurt people. I hope that they take some basic canoe lessons or do some online courses or pick up a Kevin Callen book where he tries to teach you how to do backcountry camping. I thoroughly encourage people to learn before they go. Don't just assume you're going to be able to pull that off.
Pamela: Be safe people! We wanted to wrap up with a dad joke.
Tim: And for the record, it wasn't a dad that came up with this but I quite enjoy it.
Q: How do you stop Canadian bacon from curling in the frying pan?
I don't know, how?
A: You take away their little brooms!
Pamela: For the non-Canadians listening, Canadian bacon is a particular kind of bacon also called peameal or back bacon. The curling reference is referring to a sport called curling that's played on ice with rocks that you throw down the ice and somebody sweeps a broom in front of your rock to get it to the right spot. Canadians are quite good at curling.
Tim: Awesome at curling!
Pamela: It's one of our sports that we're good at, there's ice involved and so that that explains a joke for those that might not get it because they're not Canadian.
Tim: Which is unfortunate for you, but, you know.
Pamela: Not everybody can be 🙂 That's it for us for today. Please do tune in every week we try to record something every Sunday. My name again is Pamela
Tim: and I'm Tim
Pamela: And we're from SuperGoodCamping.com. Please feel free to email us at hi@supergoodcamping.com. Thanks, and we'll talk soon!
Tim: Bye
Pamela: Bye
*This post contains affiliate links that help to support our website and our podcast